Description
Promising Practice Series: 30-minute Talks with Dr. Lisa Letourneau and Maine leaders
2022.07.26 | 12 p.m. to 12:30 p.m. |  Sign-up Here  save your registration confirmation to your virutal calendar
Maine Leader
Eva Quirion, NP, Ph.D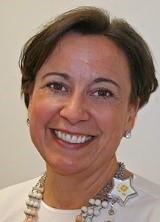 Dr. Quirion is a graduate of The University of Maine, Orono and the University of Phoenix. She joined an interventional pain practice after receiving her FNP certification. She then joined St. Joseph Healthcare in 2014 as a Pain Care provider embedded in primary care. Eva has been working with patients to help them manage their chronic pain. She has worked closely with primary care providers to improve patient safety related to chronic pain medications and other controlled substances. She has become an expert at tapering chronic controlled substances with compassion. The uncovering of undiagnosed substance use disorder led Eva to work with the St. Joseph's MAT team. At this time, Eva manages over 50 patients who are on suboxone for substance use disorder. The recovery group has also started offering sublocade (injectable buprenorphine) as an additional treatment option for those with opioid use disorder.
Eva's dissertation topic is Compassion Fatigue Among Nurse Practitioners in Maine. She became interested in compassion early in her career and works to promote compassion as a therapeutic tool in patient care.
Eva's greatest joys are her husband, two daughters, and granddaughter. She enjoys flower gardening and back yard bird watching.