Description
12:00 p.m. to 1:30 p.m. | September 22, 2021 | 1.5 contact hour or CME
This course will review opioid use disorder prevention, treatment, and recovery in the context of the current opioid epidemic. Topics will be covered in light of established practices and newly emerging evidence from the scientific literature.
About the Presenter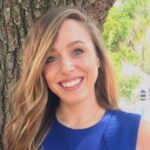 Lauren Hoffman, PhD is an addictions psychologist working as a research fellow at the Recovery Research Institute (RRI), within Massachusetts General Hospital and Harvard Medical School. She received her Bachelor of Arts degree in Psychology from San Diego State University and obtained her Doctor of Philosophy degree in psychology from the University of Florida. At the RRI, Dr. Hoffman is leading a program of research aimed at identifying the biopsychosocial correlates of addiction, their change during treatment and recovery, and their influence on recovery outcomes. Though all substance use disorders are of interest to her, Dr. Hoffman's current research focuses on opioid use disorder. The overall goal of her line of work is to provide clinically relevant information that can be used to enhance treatment and promote sustained recovery.
How it works
This course will be conducted live online via the Zoom meeting platform.
Contact hours A completed evaluation is required to receive contact hours for the following:
1.5 Continuing Medical Education This activity has been planned and implemented in accordance with the accreditation requirements and policies of the Accreditation Council for Continuing Medical Education (ACCME) through the joint providership of the Maine Medical Education Trust and (CCSME). The Maine Medical Education Trust is accredited by the Maine Medical Association Committee on Continuing Medical Education and Accreditation to provide continuing medical education for physicians
1.5 Category I contact hours for Psychologists are provided. CCSME is a pre-approved sponsor and provider of Professional Education Activities for Psychologists.
1.5 contact hour for CHES/MCHES. CCSME is a designated provider of continuing education contact hours (CECH) in health education by the National Commission for Health Education Credentialing, Inc.
Certificate of attendance for 1.5 contact hour for social workers, licensed clinical professional counselors, and other professionals.
1.5 contact hour pending approval by the Maine Board of Alcohol and Drug Counselors.
1.5 contact hour for prevention from the Maine Prevention Certification Board: This training has been pre-approved by the Maine Prevention Certification Board and meets the requirements for Prevention Specialist Certification in Maine.