Description
Motivational Interviewing Immersion: Fundamentals | September 26 & 27, 2023 | 11:00am-3:00pm
Motivational Interviewing Immersion: Advancing the Practice | October 10 & 11, 2023 | 1:00-3:00pm
*Please note there are 4 sessions in this course*
**You MUST sign up for pre- and post-course mock interviews BEFORE completing your course registration – follow instructions at the bottom of this page**
Description:
The goal of the training program is to assist in developing a culture of compassionate listening and collaborative conversation based on Motivational Interviewing within participants' organizations with the aim of engaging in compassionate and collaborative conversations, improving interactions among staff and the people served, improving client outcomes, and reducing stress and burnout among staff. This program includes two sessions on MI Fundamentals and two sessions on MI Advanced Practice. We strongly encourage groups/teams from within the same organization to sign up for this class to foster an environment where use of motivational interviewing is encourage.
This is a non-judgmental environment and it is not a test! You will be asked to complete a mock interview before the program to assess your base skill-level with motivational interviewing. We absolutely do not expect you to have any proficiency before the training. The feedback you receive after is for us to evaluate our ability to support you and your professional growth.
Objectives:
Fundamentals:
– Establish basic knowledge and familiarity with the concepts and practice of motivational interviewing
– Familiarity with the skills necessary to employ motivational interviewing with clients
– Practice motivational interviewing skills
Advanced:
– Thorough knowledge of more in depth concepts of motivational interviewing
– Discuss and compare different approaches
– Confident ability to practice motivational interviewing in the workplace
Presenter: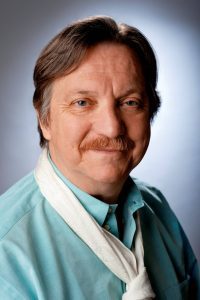 Stephen R. Andrew LCSW, LADC, CCS is a storyteller, trainer, therapist and author. He maintains a compassion-focused practice in Portland, Maine and facilitates a variety of mutual aid support groups. A member of the International Motivational Interviewing Network of Trainers (MINT) since 2003, he became a Certified MINT Trainer in 2019. He is the co-founder of Agape, Inc. which supports the Men's Resource Center of Southern Maine, Dignity for People Using Opiates, and Inneredge Counseling. He has been a MIA-STEP trainer (Motivational Interviewing Assessment; Supervisor Training Program) for the New England ATTC since 2007. Stephen has also been MITI-trained (Motivational Interviewing Treatment Integrity) and has over 100 hours of training in Motivational Interviewing. Stephen provides coaching and training domestically and internationally as well as supervising a coding/coaching laboratory and simulation training lab for Motivational Interviewing.
Audience:
Behavioral health professionals
Contact hours:
*An evaluation is required to receive continuing education credits*
12 contact hours for social workers, licensed clinical professional counselors, and behavioral health professionals.
12 contact hours for drug and alcohol counselors pending approval from the Maine Board of Drug and Alcohol Counselors.
12 Category I contact hours for Maine psychologists. CCSME is a pre-approved sponsor and provider of Maine Professional Education Activities for Psychologists.
12 contact hours for CHES. CCSME is a designated provider of continuing education contact hours (CECH) in health education by the National Commission for Health Education Credentialing, Inc.
*contact hours contingent upon completion of pre- and post-course interviews*
MOCK INTERVIEW BOOKING INSTRUCTIONS – MANDATORY
Follow this link to the HETI Maine booking calendar. (it will open in a new tab so you can return here to complete your registration)
Select one session between now and September 26th (pre-course interview).
When you book your session, copy the following note into the "message" section: CCSME pre-course interview
Make note of the day, time, and simulated client name.
Repeat the above steps to select a post-course interview between October 12th and October 31st.
At checkout on this page, you will be asked to provide the date, time, and simulated client name for your pre- and post-course mock interviews as proof of booking.
If you have any questions, feel free to contact Casey at ccoddaire@ccsme.org or 207-878-6170.