Step Guide to Reviewing Your State's 2017 Essential Health Benefits Benchmark Plan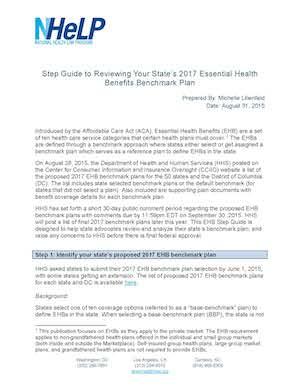 2015 CCSME Annual Membership Meeting | A Changing Landscape: How National Trends in Behavioral Health Affect Your Practice
Conference: Step Guide to Reviewing Your State's 2017 Essential Health Benefits Benchmark Plan
Introduced by the Affordable Care Act, Essential Health Benefits (EHB) are a set of ten health care service categories that certain health plans must cover. The EHBs are defined through a benchmark approach where states either select or get assigned a benchmark plan which serves as a reference plan to define EHBs in the state.
On August 28, 2015, the Department of Health and Human Services (HHS) posted on the Center for Consumer Information and Insurance Oversight (CCIIO) website a list of the proposed 2017 EHB benchmark plans for the 50 states and the District of Columbia. HHS set forth a short 30-day public comment period with comments due by 11:59pm EDT on September 30, 2015.
This EHB Step Guide is designed to help state advocates review and analyze their state's benchmark plan, and raise any concerns to HHS before there is final federal approval.